Music Notes: One Direction Covers Jason Mraz, A Rumored Ghostwriter For Nas, 3OH!3 Debut New Video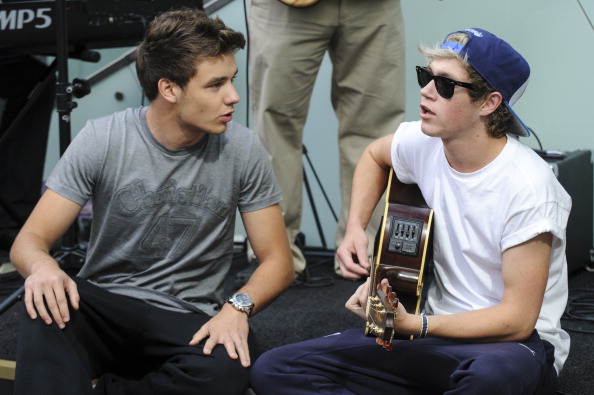 One Direction
.
One Direction does acoustic covers of two hits. Jay-Z is working on a documentary with Angels & Demons director. Rumors are flying that Nas has a ghostwriter. Lady Gaga teams up with Kendrick Lamar. It's a proven fact that rappers don't smile. These and a few other stories made today's Music Notes.
.
Here are two acoustic covers by One Direction on the set of 'What Makes You Beautiful.' The first is 'Wonderwall' followed by 'I'm Yours'.
[LittleRoyalty/1DirectionUK]
.

.

.
Have a secret? Don't tell Alicia Keys. She prematurely released 'A New Day,' which disappeared then resurfaced as a 50 Cent track. Today she announced the title of her new album: Girl on Fire.
[THR]
.
Adam Levine spoke up on gay marriage saying, "…it doesn't make any sense to me that you wouldn't be able to marry whomever you want to marry. It's not our business."
[HuffPost]
.
The Carter Legacy™ is a three-disc DVD collection documenting the rise, career and personal life of Beyoncé and Jay-Z. That's not true. But it may be in a few years since both of them are working separately on documentaries. Jay-Z's doc will be directed by the guy who put Angels & Demons on the screen.
[Myspace]
.
3OH!3 debuted a new vid for 'You're Gonna Love This.' It's a little lackluster compared to the kind of work that got them noticed with Ke$ha a couple years back.
[The Warner Sound]
.

.
Nas is often praised as one of the greatest lyricists of our time. Who would dare say he needed a ghostwriter – especially for his 2008 untitled LP? Well, the rumors aren't true. Nas penned the album himself.
[Hot New Hip Hop]
.
Questlove did a remix of Beastie Boys Rock & Roll Hall Of Fame. Peep the falsetto.
[Vulture]
.

.
Remix master Pogo released a 'Wizard of Meh' music vid. You remember him best from his tranquil 'Boo Bass' track featuring Boo from Monsters, Inc.
[Pogo]
.

.
The VMA's are going to be stellar this year. Kevin Hart made us laugh with his promo, and now it's announced that Green Day is performing!
[MTV]
.
Fact: Being a rapper implies that you completely lose the ability to smile. RappersDontSmile.com showcases that. Click on Tyler The Creator to see the list.
[RappersDontSmile.com]
.

.
The short documentary for Watch The Throne garnered enough attention to debut at the Toronto International Film Festival. Kanye doesn't need anymore air for his ego.
[MTV]
.
Mel B (Scary Spice) says that whenever she and the Spice Girls get together, it's like they've never been apart. She was also surprised by all the excitement folks had when seeing Spice Girls perform again.
[MTV]
Every 90s kid knows about The Animaniacs. Here's Wakko singing Skrillex. You're welcome.
[xerograde]
.

.
It's apparently been a tough year for Mother Monster. In an open letter to fans, Lady Gaga wrote, "I want to thank you for [bearing] with me a little bit." Tell us mama: what's the struggle?
[MTV]
.
She also announced a collab with Kendrick Lamar. Their new single 'PARTYNAUSEOUS' will appear on Lamar's new album. By the way, what's with Gaga and spelling everything in all caps lately?
[Billboard]
.
Killing Joke singer Jaz Coleman was found in the desert. No, really. But all is well as he was busy finishing his book and writing new music. The Sahara Desert is the perfect place to find inspiration…
[Punk News]
.
Be careful what you say to celebs on social media (or anyone, for that matter). Sheryl Crow was granted a 3-year restraining order against a man who threatened her on Facebook.
[K1047]
.
Can we please take a break from showing little kids pretending to be pimps? Take 'Hot Cheetos and Takis' for example. It's just kids being kids… and super creative.
[13twentythree]
.

.
.
.